The Toyota Country Music Festival, Tamworth has taken out the title for the second year running of
"Best Major Festival and Event" at the 2019 Destination Count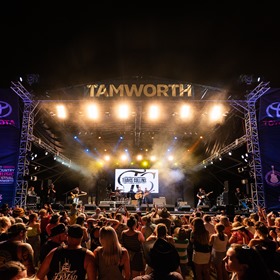 ry and Outback and Destination Riverina Murray Regional Tourism Awards in Dubbo on Saturday night.
Held over 10 days each January, TCMF is Australia's biggest music festival and one of the top ten festivals of the world.
Toyota Country Music Festival Manager, Barry Harley is thrilled to accept the award on behalf of the entire
Tamworth community and festival supporters.
"We are so proud of the festival and it's an honour to again be recognised as the Best Major Event in regional NSW."
"What makes the Tamworth festival so unique is that it is truly a community-owned festival and a real team effort.
Without the support of local businesses, the pubs, clubs and restaurants who host performances, the artists who
mark it on their tour maps and of course the locals and visitors who come along to enjoy it each year, the festival
wouldn't be what it is today – so thank you and well done to everyone."
The upcoming TCMF2020 will be held from Friday 17 to Sunday 28 January 2020. It will host the biggest country
music stars with the biggest crowd; and festival goers are guaranteed to make the biggest memories while enjoying
the biggest festival with the biggest atmosphere yet!
Toyota Country Music Festival, Tamworth is now a finalist in the NSW Tourism Awards held in Sydney later this year.
For more information visit www.destinationtamworth.com.au