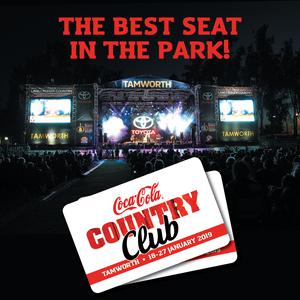 The opportunity to enjoy some of the best entertainment on offer at the Toyota Country Music Festival Tamworth has arrived, and it's the place to be this January.

During the festival, Toyota Park will house the inaugural Coca-Cola Country Club, a Very Important Place, for exclusive ticket holders to sit back, relax and enjoy the Festival's biggest concerts in comfort and style.

Guaranteed reserved seats, Coca-Cola beverages, snacks, and the best views in the park, make the Cocoa-Cola Country Club the ultimate music festival experience. For just $15 per night or $100 for the whole ten days, these tickets are limited and are sure to be in hot demand.

Toyota Country Music Festival Manager, Barry Harley says: "We're thrilled to be able to offer this exclusive experience to our guests, thanks to the support from Coca-Cola.

"A place to enjoy the festival in comfort and with service will really take that ultimate festival experience to the next level."

So, if you want to feel like the Very Important Person that you are, then be sure to treat yourself to a night or ten at the Coca-Cola Country Club during this Toyota Country Music Festival, Tamworth.

"The best view in the park and all the perks that come with it, I know where I'd want to be enjoying the festival from and it's The Coca-Cola Country Club!" says Harley.

Tickets for the Coca-Cola Country Club are available here.