Roll of Renown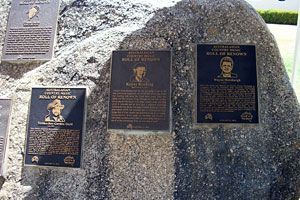 The Roll of Renown is one of the most prestigious awards in Australian country music history and returns to the Toyota Country Music Festival Tamworth in January.
Inaugurated by Radio 2TM in 1976, the award honours Australians and New Zealanders who have shaped the industry by making a significant and lasting contribution to Country Music. Among the forty eight previous honourees (including individuals, duos and bands) are Slim Dusty, John Williamson, Phil and Tommy Emmanuel and Lee Kernaghan who are now immortalised on the famous giant granite boulders, located outside the Tamworth Regional Entertainment and Conference Centre (TRECC).
The award is determined by an independent selection panel, set up under Chairmanship of Max Ellis, one of the original founders of the Roll of Renown, the Awards and the Festival. The 2019 inductee announced at the TRECC on Saturday, January 26th 2019 during the Toyota Golden Guitar Awards was James Blundell and followed with an unveiling of the winner's plaque at TRECC on Sunday, 27th January 2019.
Past Winners of the Roll of Renown
1976 — Tex Morton
1977 — Buddy Williams
1978 — Smoky Dawson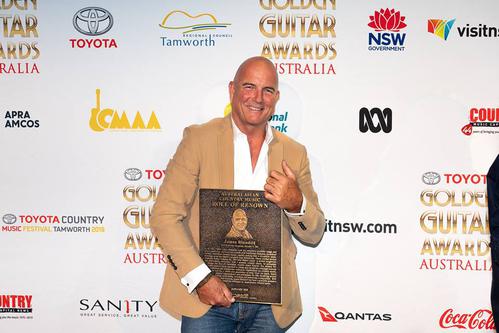 1979 — Slim Dusty
1980 — Shirley Thoms
1981 — Tim McNamara
1982 — Gordon Parsons
1983 — The McKean Sisters
1984 — Reg Lindsay
1985 — Rick & Thel Carey
1986 — Johnny Ashcroft
1987 — Chad Morgan
1988 — John Minson
1989 — The Hawking Bros
1990 — Stan Coster
1991 — Barry Thornton
1992 — Nev Nicholls
1993 — Shorty Ranger
1994 — Jimmy Little
1995 — Ted Egan
1996 — Dusty Rankin
1997 – John Williamson 1998 — Rocky Page
1999 — Brian Young
2000 — Rex Dallas
2001 — Arthur Blanch
2002 — The Schneider Sisters
2003 — Frank Ifield
2004 — Webb Brothers & Kenny Kitching
2005 —The Singing Kettles & Athol McCoy
2006 – Reg Poole
2007 – Lindsay Butler & Kevin King
2008 – Geoff Mack & Jean Stafford
2009 – Slim Newton
2010 – Anne Kirkpatrick
2011 – Phil & Tommy Emmanuel
2012 – Terry Gordon
2013 - Wayne Horsburgh
2014 - Norm Bodkin & Les Partell
2015 – Ray Kernaghan & Lee Kernaghan
2016 - Graeme Connors
2017 - Troy Cassar-Daley
2018 - Kasey Chambers
2019 - James Blundell
2020 - Joy McKean