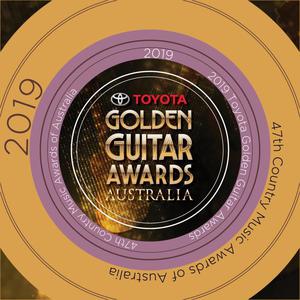 Performers announced for Australian Country Music's night of all nights, the 47th Toyota Golden Guitar Awards
PLUS…
Keith Urban Announced as winner of the 2019 Sanity Top Selling Album of the Year Golden Guitar Award
Today, The Country Music Association of Australia (CMAA) and Tamworth Regional Council are thrilled to announce the line up of performers who will take to the stage at the 47th Toyota Golden Guitar Awards.
The Awards are Australia's longest standing music awards and a highlight event on the industry's calendar, held annually during the Toyota Country Music Festival, Tamworth.
Hosted by fan-favourites, Adam Brand and Amber Lawrence, the Awards are a celebration of the success of the country music industry and will pay tribute to the best of Australian country music in 2018.
Performers will include Kasey Chambers & The Fireside Disciples, Troy Cassar-Daley, John Williamson, The Wolfe Brothers, Adam Harvey, Beccy Cole, Travis Collins, Adam Eckersley & Brooke McClymont, James Blundell, Graeme Connors, Catherine Britt & The Cold Cold Hearts, Bennett, Bowtell & Urquhart, Kristy Cox, Andrew Swift, Imogen Clark, Tori Forsyth, 2018 Toyota Star Maker Winner Brad Cox and awards hosts Adam Brand and Amber Lawrence.
The 2019 Sanity Top Selling Australian Album of the Year has today been announced with Keith Urban taking out the prestigious title for his latest album 'Graffiti U'. 'Graffiti U' has been another hugely successful album for Keith, who took out the Entertainer of the Year category at the 2018 CMA Awards and has been nominated for a Grammy Award for the song "Parallel Line".
Keith Urban will be in Tamworth ahead of the launch of his "Graffiti U World Tour Australia," for a special performance, 'A Benefit Show for Rural Aid Drought Relief.' The show will take place as part of the 2019 Toyota Country Music Festival at Tamworth Town Hall on Tuesday 22nd January.
The winner of the Sanity Top Selling Australian Album of the Year award is determined by ARIA sales data for the period January 1 to December 31, 2018 for albums released within the eligibility period for the Golden Guitar Awards. The top 5 top selling Australian country albums of the year were:
Keith Urban – Graffiti U
Kasey Chambers & the Fireside Disciples – Campfire
Morgan Evans – Things That We Drink To
John Williamson – Butcherbird
The Wolfe Brothers – Country Heart
Toyota Golden Guitar Awards Executive Producer, Peter Ross said, "The awards are all about celebrating. Celebrating the winners, the successes from the past year, and the future of the industry. The artists performing on the night are a true reflection of the strength of Australian country music."
"To see emerging artists alongside some of the biggest names in country music is what excites us the most – the future is very bright," continued Ross.
"There's no better way to spend your Saturday night at the Toyota Country Music Festival than in the company of some of country music's biggest stars, enjoying the performances and celebrating this incredible industry," said Tamworth Regional Council's Country Music Manager, Barry Harley.
The Toyota Golden Guitar Awards will be held at Tamworth Regional Entertainment and Conference Centre (TRECC) during the Toyota Country Music Festival, Tamworth on Saturday, 26 January 2019.