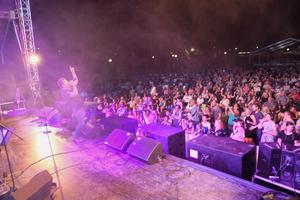 Written by Travis Collins

I remember the first time I saw a 'big concert' in Toyota Park, I was amazed. I was fifteen years old.

It looked like a huge, incredible rock concert… but this was Country Music, my music. Wow! This was my first taste of seeing the genre coming into the future, and I loved it. Lee Kernaghan was the headliner, and mainly who I'd come to see.

I arrived about 6pm after busking all day – guitar still on my back, hands blistered, hardly a cent to my name. Despite the heat, thousands upon thousands of people had turned out to claim their bit of turf… some since 10am. Back then, I thought that was crazy, but now I know that they knew what was coming and it was worth getting prime position!

Then, as the hot January sun surrendered, a cool breeze and shadows fell across the park. The entire mood shifted and re-energised. I felt it, I think everybody did. The stage begins to look even grander by the minute in the cover of sunset as the massive lighting and big screens take effect. The first band comes on, you hear those drumsticks click together, and with a gutsy count-in - "1, 2, 3, 4", BANG... we're off and racing. What I saw that night, from start to finish, made me want to be on that stage.

It was four years later, in 2004, as a Toyota Starmaker winner that I first got to perform in Toyota Park. It was really the first big stage I'd ever been given a gig on. I didn't have any songs out on radio yet, no record deal, and nobody knew me that's for sure… I was just a new kid. Yet, the crowd were so kind, so loud - they made me feel like a 'someone'.

To this day, you can still see the 'new kid' getting a shot on that stage, right beside the big guns, and I really love that. I guess that's the Tamworth Country Music Festival in general though. It's a real nursery for those 'new kids'.

I've since had many memorable and special moments in Tamworth, from the early days busking on Peel Street, to finding my tribe at the CMAA Academy, being awarded the Toyota Starmaker title. I've made lifelong friends and shared our journey as struggling musicians, before celebrating sell-out shows and Toyota Golden Guitars with those same people. It's a huge part of my story; a story I'm very thankful for.

This year, I will be headlinging my own show at Toyota Park on Friday 25 January and I'll be striving to make every single person in Toyota Park feel the way I did when I was 16, and watching from the very back row. Proud of our genre, proud of our country and its people; inspired, energised and most of all, connected.