HATS 'ON' AT THE TAMWORTH COUNTRY MUSIC FESTIVAL
In January each year, Tamworth locals can show their pride for the Toyota Country Music Festival by collecting one of Toyota's famous Festival hats. The 'Tamworth Proud' hats, available for free to residents, allow locals to share in the Festival success and show visitors that they are 'born and bred' in Tamworth, and proud of it.
Festival Manager, Barry Harley says that the promotion instils a sense of pride for locals, who are sometimes outnumbered during the Festival, and really encourages them to be a part of it.
"The hats have a unique design and are made exclusively for residents of Tamworth" said Barry.
"The hatband features an 'Ask Me' icon, encouraging visitors to the Festival to engage with locals and perhaps discover some back roads and local hot spots they may not have experienced before" he added.
This year locals will also have an opportunity to have their photo taken with Lee Kernaghan whilst wearing their Tamworth Proud hat.
"At Tamworth City Toyota we have set up a stage with a life size cut out of Lee as a fun way to put yourself right into the middle of the Festival action" explained Tamworth City Toyota Group Operations Manager, Chris Sheppeard.
"It's a bit of fun that we are excited to provide for residents of Tamworth. The photos look fantastic and a great keepsake" said Chris.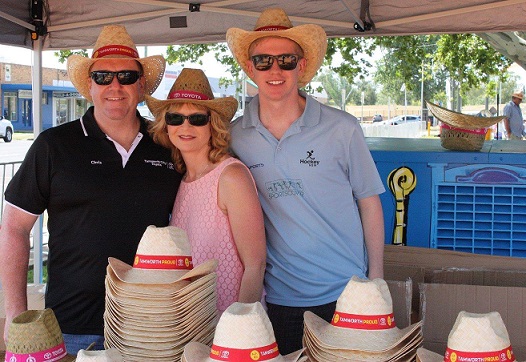 Hats are available from today 7 January 2016 and can be collected until 14th January 2016 by visiting Tamworth City Toyota and Festival HQ (ground floor of Ray Walsh House). Residents must show proof of residency for collection.
Media Contact: Victoria Brown, Marketing Officer, Tamworth Country Music Festival HQ, P: 0432 538 746.
The Tamworth Country Music Festival is being held from Friday 15 to Sunday 24 January 2016. It is proudly supported by the NSW Government though its tourism and major events agency Destination NSW.