Family Activities in Tamworth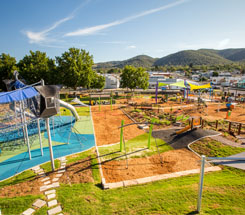 Tamworth Regional Playground
Children of all ages will find endless enjoyment at the new Tamworth Regional Playground. It has a skywalk, three giant slides, four towers, a bike track, junior and senior fitness circuits, a dual flying fox and a waterfall with a three-metre sway bridge. When it's time to refresh and recover, there's a new café/restaurant where you can take a well-earned break. Tamworth Regional Playground adjoins the lush, green Bicentennial Park, where kids can ride along the extensive paths and feed the friendly ducks in the ponds. Click here to find out more and check out the map of the Playground!
Tamworth Adventure Playground
Set amongst the Tamworth Marsupial Park is a fully fenced playground with two distinct areas for under-5's and over 5's. The design encourages children to use their fine and gross motor skills and of course their imagination.
Tamworth Marsupial Park
Tamworth's Marsupial Park is a native animal experience unlike any other in NSW. Children can get close to kangaroos, wallabies, cockatoos and emus plsu they can spot the species in the free-flight aviary and hand feed the Indian peacocks.

This 14 heactare park is run by volunteers and kind donations. There are barbecue facilities and bathroom and entry is FREE!
There are covered picnic areas and private bush picnic areas throughout the park.
A trip to the Marsupial Park will not disappoint!
Tamworth Miniature Railway
Just down the road from the Tamworth Marsupial Park is the Miniature Railway; train rides operate on the third Sunday of every month for just a couple of bucks – make sure to wear enclosed shoes (no crocs).
Swimming Pools
In warmer months, the region's six public pools are a cool playground for families, and also hold swimming squads, fitness training and triathlons.
Barraba Memorial Swimming Complex & Hydrotherapy Pool | Cnr Queen & Savoy Streets, Barraba | P: 02 6782 1038

Kootingal War Memorial Swimming Pool | Denman Street, Kootingal | P: 02 6760 3431

Manilla Memorial Swimming Pool | Cnr Arthur & Church Streets, Manilla | P: 02 6785 1436

Nundle Swimming Pool | Jenkins Street, Nundle | P: 02 6769 3111

South & West Tamworth War Memorial Swimming Pool | Cnr Kent & Belmore Streets, South Tamworth | P: 02 6765 7307
Tamworth Paintball and Laser Tag
Tamworth Paintball and Laser Tag at Kootingal offers more than a dozen fields. Paintball is for ages 16-plus, and games include Glenrowan – raid Ned Kelly's home town and rob a bank; black hawk down – a helicopter goes down in an enemy village and you have to save the pilot; and Berlin – fight your way into the city and capture Hitler's bunker. Laser tag is for ages 4-plus and games include capture the flag and rescuing a comrade caught behind enemy lines. Click here for more information.

Kids Zone
Kids Zone has three different age-appropriate areas and a cafe.


Precision Helicopters
Experience festival from a new height! Precision Helicopters will be offering flights over Tamworth!