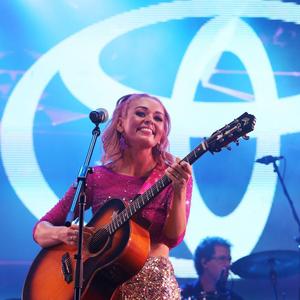 Wednesday, 8 June 2022

Entries open today in the annual Toyota Star Maker competition to be held on Sunday, 15 January 2023 at the Toyota Country Music Festival.
Emerging artists who are seeking a professional career in the Australian country music scene are encouraged to enter now.
Toyota Star Maker is the nation's most loved and respected country music competition and has been making an impact on the landscape for 42 years.
It provides a launching pad for 10 finalists, with one being the ultimate winner.
Star Maker coordinator Cheryl Brown said; "We're looking for a winner ready for a great experience and who is willing to work with our team to begin a long and successful career in the music industry."
Toyota Australia Chief Marketing Officer Vin Naidoo said Toyota was proud to continue its support to Toyota Star Maker and provide up-and-coming country music artists the wonderful career opportunities provided by the prize package.
"After celebrating the Toyota Country Music Festival's 50th anniversary in Tamworth, it is great to be able to continue to bring both country music fans and talented newcomers to the scene together, and support our rural heartland through Toyota Star Maker.
"For the past 43 years, Toyota Star Maker has been a highlight on the country music calendar and we can't wait to celebrate with the 2023 winner at the Toyota Country Music Festival in Tamworth next January," he said.
Entrants are required to send in two tracks of their choice, provide their biography and career achievements to date, as well as provide any additional information that might help them over the line to become a finalist.
In 2022, we decided to interview 20 semi-finalists which gave them an opportunity to put their case forward and which gave organisers a little more insight into the individuals. This was a good addition to the process and will continue in 2023.
In April 2022, Newcastle's Max Jackson was announced as the 42nd Toyota Star Maker and she has hit the ground running. She has recorded her first Star Maker single and music video, which is set for release mid-June, and is currently in Music City, Nashville for the annual CMA Fest, courtesy of Tamworth's Chris Watson Travel.
Max is an invited guest of the Country Music Association of Nashville where she will attend the four-nightly CMA Fest concerts, and also take part in an International Songwriters' In The Round, as well as a performance at the Spotlight Stage at Music City Centre. Other Star Maker winners representing at CMA are Keith Urban, Kylie Sackley and Kaylee Bell.
We welcome interested artists to make the 2023 Toyota Star Maker a part of their musical journey and enter today.
Entries will close Thursday, 1 September 2022.