Camping and Caravan Parks

---
Wallaroo Camping Hire - Pre-pitched tents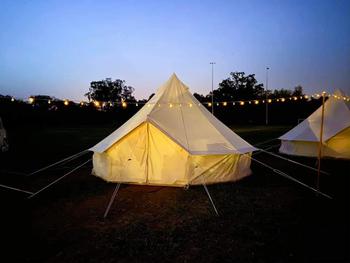 Get the most out of TCMF2022 and stay 200m from the action at the Wallaroo Campsite. No need to bring your camping gear as all tents are provided with a range of optional extras to make your stay as comfortable as possible.
The Wallaroo Campsite is suitable for everyone- from musicians to families there are a range of suitable accommodation options. If you're keen to keep costs down, the Nomad package is ideal, or for individuals, families and groups looking for their own space, the Tent Village package can sleep up to 6. Lastly, for couples or groups looking for a luxury experience, you can't go past Wallaroo Glamping!
Click here to find out more and to book
---
Riverside Camping Grounds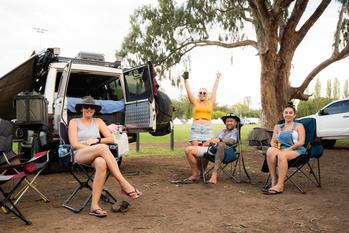 The Riverside Camping Grounds are a central camping location next to the Peel River and just minutes walk from the musical hype and action in the Tamworth CBD.
Camping dates and fees are as follows:

Festival: 17 – 25 April or part thereof: $150 GST incl. per site
Camping hours of operation:

Campgrounds will open at midday on Sunday 17 April, then open 24 hours thereafter - please enter through Carter St Gate.

Site Tickets

Camping sites can be pre purchased or bought at the gate.
No cash accepted at the gate - credit card or Eftpos only
Entrance fee includes access to showers.

Site Allocation

Camp sites are not pre allocated or numbered. The purchase of a ticket provides entry to the camp grounds not to a specific pre designated site. Upon arrival to the camp grounds ticket holders can set up in any location that is available provided it is in an allocated camping area.

Click here for Riverside Camping terms and conditions

Click here to purchase Riverside Camping
---
Camping & Caravan Parks - In Tamworth

Austin Top Tourist Park Cabins
581 Armidale Road
Tamworth NSW 2340
P: 02 6766 2380
Click here for more information

City Lights Caravan Park
612-128 Goonoo Goonoo Road
Tamworth NSW 2340
P: 02 6765 7664
Click here for more information

Paradise Tourist Park
575 Peel Street
Tamworth NSW 2340
P: 02 6766 3120
Click here for more information

Tamworth North Holiday Park
New England Highway
Nemingha NSW 2340
P: 02 6760 9356
Click here for more information

---
Temporary Sites
North Tamworth Rugby League Club - Jack Woolaston Oval
112-114 Peel Street North Tamworth NSW 2340

M: TBC
E: cmf.northtamworthRL@gmail.com
Unpowered sites only, close to town and bus services. Located across from Northgate Shopping Centre housing Coles, liquor store, bakery, butchers, chemist and ATM. For more info click here.
Pirates Rugby Club
C/- Tammy Bannister
M: 0422 145 449
E: tamjamaya@yahoo.com.au
Tamworth Greyhound Club
1 Gunnedah Road, Tamworth
P: 02 6765 9324 or 0403 084 207
E: tamworthgrey@bigpond.com
Powered and unpowered caravan sites available. Limited shaded sites, hot and cold showers, quiet location which is close to many pubs and clubs, public transport at the door step.
Tamworth Pony Club
T: 6761 7269 (after 7pm)
Paceway (Old Tamworth Showground)
24-60 Showground Road (3km) - Industrial Area
T: 02 6765 9382 (9am-5pm) Email: pacewaytamworth@hrnsw.com.au
Powered sites, unpowered sites. Bookings open from July 1st.

Tamworth Rugby Union Football Club
"Tamworth Rugby Park"
Marius Street, Tamworth
Between Macquarie and O'Connell Streets
Opposite Viaduct Park

Powered and unpowered sites.
10-minute walk to town. Close to bus services.

E: camping@tamworthrugby.com.au
M: 0401 768 323

Calrossy Anglican School - FULLY BOOKED
140 Brisbane Street, Tamworth
P: 02 5776 5100
E: admin@calrossy.nsw.edu.au
Dormitory accomodation
Oxley High School - Unavailable for April 2022
Piper Street, Tamworth
P: 02 6766 1677 (during work hours)
E: oxley-h.school@det.nsw.edu.au
---
Camping & Caravan Parks - Out of Tamworth
Attunga Recreation Sports Ground
Palmer Street, Attunga (20km NW)
P: 02 6769 5592

Barraba Caravan Park
10-22 Bridge Street, Barraba NSW 2347
P: 02 6782 1818
Click here for more information

Bendemeer Tourist Park
99 Havannah Street, Bendemeer
P: 02 6769 6604
E: office@bendemeertouristpark.com.au

Chaffey Dam
Nundle Road, Nundle
C/- Nundle VIC
P: 02 6769 3026
No bookings, unpowered sites available. Hot showers

Fossickers Tourist Park
1-33 Jenkins Street, Nundle NSW 2340
P: 02 6769 3355
Click here for more information

Kootingal & District Pony Club
Moonbi Recreation Reserve
Phone 02 6760 3580
Powered and unpowered sites, two amenities blocks, free laundry

Kootingal Kourt Caravan Park
3 Churchill Drive, Kootingal NSW 2352
P: 02 6760 3103
Click here for more information

Kootingal Recreation Reserve
17kms (15mins) North of Tamworth of the New England Highway
Denman Avenue, Kootingal
M: 0427 603 598
Powered, unpowered, showers and laundry facilities in the centre of town. On the Tamworth bus route too!

Lake Keepit State Park
234 Keepit Dam Road, Lake Keepit
P: 02 6769 7602
Click here for more information

Manilla Paragliding, Cabins & Camping
The Mountain, Manilla
P: 6785 6545
Click here for more information

Manilla River Gums Caravan Park
86 Strafford Street, Manilla NSW 2346
P: 02 6785 1166

Manilla Ski Gardens Caravan Park
Rushes Creek Road, Manilla NSW 2346
P: 6785 1686
Moonbi Recreation Reserve
P: 02 6760 3580
Powered and unpowered sites, two amenities blocks, free laundry.

Murrurundi Caravan Park
11 Bernard Street, Murrurundi (1 hour south of Tamworth on New England Highway)
P: 02 6546 6288
Powered/unpowered/self contained sites. Big rigs and pets welcome. Toilets, showers, laundry, camp kitchen, BBQ's, 2km to shops, cafes and pubs.
Click here for more information

Nowendoc Recreation Reserve
Spacious 5 acres of grassed camping areas. Cold showers and toilets provided. Some power access available per arrangement, large open grounds for all kinds of vehicles/horses and users, 104km from Tamworth. $10per/night per vehicle, daily cash collection/drop box.
E: nowendocrecreationreserve@gmail.com
Nundle Pony Club Grounds
Taylor's Lane, Nundle NSW 2340
P. Jannine Miles 0418 492 078
Offering cabins, powered and unpowered camp sites.

Piallamore Recreation Reserve
Tamworth-Nundle Road, Piallamore NSW 2340
P. Mark 0439 424 215
Fully equipped camp kitchen, toilets, on site caretakers and only 15 minutes to CBD by car or bus goes past front gate
Click here for more information

Tamworth North Holiday Park
New England Highway, Nemingha
P: 02 6760 9356

The DAG Sheep Station - Bush Camping
1067 Crawney Road, Nundle
P: 02 6769 3486
75 acres of bush camping, showers, facilities and meals available at The DAG. No minimum stay. Live music and entertainement on site.
Click here for more information

Woolomin Reserve
Nundle Road, Woolomin
C/- Woolomin Gold Rush Store
P: 02 6764 2243
Camping plus two powered sites

For information on available accommodation please contact the Tamworth Visitor Information Centre. Phone: 02 6767 5300
Please note that this is a guide only as availability is constantly changing. Please contact the accommodation providers directly for changes to availability.