Camping and Caravan Parks

---
Riverside Camping Grounds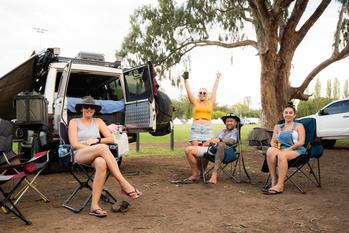 The Riverside Camping Grounds are a central camping location next to the Peel River and just minutes walk from the musical hype and action in the Tamworth CBD. Caravans, RV's/motorhomes, camper trailers and tents are all welcome.

Camping dates and fees are as follows:
Countdown and Festival: 12 – 28 January 2024 or part thereof – $320 including GST.
Festival: 19 – 28 January 2024 or part thereof – $200 including GST.
Final weekend: Friday 26 – Sunday 28 January 2024 – $100 including GST
Camping hours of operation:
Campgrounds will open at midday on Friday 12 January, then open 24 hours thereafter - please enter through Carter St Gate.
Site Tickets
Book your camping Here

Camping sites can be pre purchased or bought at the gate.
No cash accepted at the gate - credit card or Eftpos only
Entrance fee includes access to showers.

Site Allocation
Camp sites are not pre allocated or numbered. The purchase of a ticket provides entry to the camp grounds not to a specific pre designated site. Upon arrival to the camp grounds ticket holders can set up in any location that is available provided it is in an allocated camping area.
Please click here for Riverside Camping Ground Site Map.
Please note, all campers are to vacate Riverside Camping Ground by 12pm on Monday 29 January 2024.
Questions regarding Riverside Camping Ground, please call Melanie on 02 6767 5612.
Wallaroo Camping
Pre pitched camping and tent hire

This year Wallaroo Camping Hire will be providing camping solutions at the Riverside Camping Grounds.

You'll need to purchase a site ticket for Riverside Camping here in addition to any camping items or extras booked with Wallaroo.

Wallaroo are offering pre-pitched camping set ups, standard tent hire so you can set up camp yourself and a wide variety of camping additions to make your stay at the Festival comfortable. Power and air conditioning are now available for all pre-pitched Packages and Airpole Tents.

Wallaroo also hire out a large range of individual items for anyone staying at Riverside, including eskys, camping chairs and lanterns.

Please visit here for more information click here or call 03 8840 7014

---
Camping & Caravan Parks - In Tamworth

Austin Tourist Park
581 Armidale Road
Tamworth NSW 2340
P: 02 6766 2380
Click here for more information

City Lights Caravan Park
612-128 Goonoo Goonoo Road
Tamworth NSW 2340
P: 02 6765 7664
Click here for more information

Paradise Tourist Park
575 Peel Street
Tamworth NSW 2340
P: 02 6766 3120
Click here for more information

Tamworth North Holiday Park
New England Highway
Nemingha NSW 2340
P: 02 6760 9356
Click here for more information

---
Temporary Sites
Attunga Recreation Sports Ground
Palmer Street, Attunga (20km NW)
P: 02 6769 5592
Dungowan Recreation Ground (25km east of Tamworth)
Powered and unpowered sites
Full amenities
Enquires to Marie: 0400 968 599
Kootingal Recreation Reserve
17kms (15mins) North of Tamworth of the New England Highway
Denman Avenue, Kootingal
M: 0409 314 731
E: kootingalrrc@gmail.com
Powered, showers and laundry facilities in the centre of town. On the Tamworth bus route too!
Kootingal & District Pony Club
Moonbi Recreation Reserve
Phone 02 6760 3580
Powered and unpowered sites, two amenities blocks, free laundry
North Tamworth Rugby League Club - Jack Woolaston Oval
112-114 Peel Street North Tamworth NSW 2340
Contact: Melissa Hayes
M: 0493 528 241 (Between 6pm-9pm Monday to Friday, and 9am-5pm Saturday and Sunday)
W: cmfnorthtamworthrl.wixsite.com/north-tamworth-bears
E: cmf.northtamworthRL@gmail.com
'Powered and unpowered sites, close to town and bus services. Located across from Northgate Shopping Centre housing Coles, liquor store, bakery, butchers, chemist and ATM.
Moonbi Recreation Reserve
P: 02 6760 3580
Powered and unpowered sites, two amenities blocks, free laundry.
Pirates Rugby Club
C/- Tammy Bannister
M: 0422 145 449
E: tamjamaya@yahoo.com.au
Tamworth Greyhound Club
1 Gunnedah Road, Tamworth
P: 0403 084 207
E: tamworthgrey@bigpond.com
Powered and unpowered caravan sites available. Limited shaded sites, hot and cold showers, quiet location which is close to many pubs and clubs, public transport at the door step.
Tamworth Pony Club
Bournes Lane, Tamworth
M: 0439 378836 - Alison
M: 0418 402693 - Laura Limited powered sites, plenty of unpowered sites.
Bookings open year round. No dogs permitted
Paceway (Old Tamworth Showground)
24-60 Showground Road (3km) - Industrial Area
T: 02 6765 9382 (9am-5pm) Email: pacewaytamworth@hrnsw.com.au
Powered sites, unpowered sites. Bookings open from July 1st.
Piallamore Recreation Reserve
Tamworth-Nundle Road, Piallamore NSW 2340
P. Mark 0439 424 215
Fully equipped camp kitchen, toilets, on site caretakers and only 15 minutes to CBD by car or bus goes past front gate
Click here for more information

Tamworth Rugby Union Football Club
"Tamworth Rugby Park"
Marius Street, Tamworth
Between Macquarie and O'Connell Streets, opposite Viaduct Park
Powered and unpowered sites.
10-minute walk to town. Close to bus services.
E: camping@tamworthrugby.com.au
M: 0401 768 323
Nemingha Recreation Reserve
7kms North-east of Tamworth City
44 Back Kootingal Road, Nemingha
P: Kev Squires 0427 201 976
Click here for more contact information
Camp Oxley
Oxley High School - Piper Street, North Tamworth

Camp Oxley is a camping ground run by the P&C committee at Oxley High School for the country music period only. Camping is on two ovals at the back of the school and is suitable for motor homes, caravans and tents. The site is quiet, away from the busy centre of town (approximately 3 kilometres from the Tamworth Post Office), surrounded by some neighbours, but mostly the school agricultural grounds. Transport is conveniently located with a bus stop on Piper Street directly at the school entrance. Bathrooms facilities (toilets and showers) are located upstairs in the school buildings, and are the student PE change rooms. Water and power are available to each of the sites. Please contact the organiser on the above email should you require further information.

P: 02 6766 1677 (during work hours)
E: campoxley@oxleyhs.onmicrosoft.com
---
Camping & Caravan Parks - Out of Tamworth

Barraba Caravan Park
10-22 Bridge Street, Barraba NSW 2347
P: 02 6782 1818
Click here for more information

Bendemeer Tourist Park
99 Havannah Street, Bendemeer
P: 02 6769 6604
E: office@bendemeertouristpark.com.au

Chaffey Dam
Nundle Road, Nundle
C/- Nundle VIC
P: 02 6769 3026
No bookings, unpowered sites available. Hot showers

Fossickers Tourist Park
1-33 Jenkins Street, Nundle NSW 2340
P: 02 6769 3355
Click here for more information


Kootingal Kourt Caravan Park
3 Churchill Drive, Kootingal NSW 2352
P: 02 6760 3103
Click here for more information


Lake Keepit State Park
234 Keepit Dam Road, Lake Keepit
P: 02 6769 7602
Click here for more information

Manilla Paragliding, Cabins & Camping
The Mountain, Manilla
P: 6785 6545
Click here for more information

Manilla River Gums Caravan Park
86 Strafford Street, Manilla NSW 2346
P: 02 6785 1166

Manilla Ski Gardens Caravan Park
Rushes Creek Road, Manilla NSW 2346
P: 6785 1686

Murrurundi Caravan Park
11 Bernard Street, Murrurundi (1 hour south of Tamworth on New England Highway)
P: 02 6546 6288
Powered/unpowered/self contained sites. Big rigs and pets welcome. Toilets, showers, laundry, camp kitchen, BBQ's, 2km to shops, cafes and pubs.
Click here for more information

Nowendoc Recreation Reserve
Spacious 5 acres of grassed camping areas. Cold showers and toilets provided. Some power access available per arrangement, large open grounds for all kinds of vehicles/horses and users, 104km from Tamworth. $10per/night per vehicle, daily cash collection/drop box.
E: nowendocrecreationreserve@gmail.com
Nundle Pony Club Grounds
Taylor's Lane, Nundle NSW 2340
P. Jannine Miles 0418 492 078
Offering cabins, powered and unpowered camp sites.


The DAG Sheep Station - Bush Camping
1067 Crawney Road, Nundle
P: 02 6769 3486
75 acres of bush camping, showers, facilities and meals available at The DAG. No minimum stay. Live music and entertainement on site.
Click here for more information

Woolomin Reserve
Nundle Road, Woolomin
C/- Woolomin Gold Rush Store
P: 02 6764 2243
Camping plus two powered sites

For information on available accommodation please contact the Tamworth Visitor Information Centre. Phone: 02 6767 5300
Please note that this is a guide only as availability is constantly changing. Please contact the accommodation providers directly for changes to availability.