The 2018 Star Maker winner Brad Cox delivers his moving new single Lake House from his upcoming self-titled debut album – the major prize as the 39th Star Maker winner to be released May 4.
"Lake House is about a woman I met and never saw again," said Brad.
Born and raised in Jindabyne NSW, 22-year-old Brad plunged himself into music from the age of 13. A naturally talented singer and guitarist, he started listening to and writing country music at 15.
Brad is influenced by artists who challenge country music with the inspiration for his writing coming from personal experiences or from those around him. "I'm loving music by blokes like Chris Stapleton, Luke Combs and Sturgill Simpson," said Brad.
The album has spent a long time in Brad's head; a long time as demos on his phone, and a long time in the hands of producer Matt Fell. "I'm glad I took my time with this record and I am so proud of what it has grown into. Each song has its very own unique sound, and is very much me".
Album producer Golden Guitar winner Matt Fell said; "Brad Cox doesn't just live and breathe music, his music is him. Every word and every note is the sound of his story and what a story it is."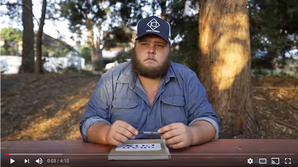 WATCH VIDEO FOR 'LAKE HOUSE' HERE
Also launching today is the music video for Lake House. Brad's backyard was the perfect location, the NSW Snowy Mountains. "For my first ever music video, working with Kris Lewis, Jason Lewis and Laura Webb was a really enjoyable experience. They did an exceptional job of turning my 2am beer-stained vision into exactly what I saw in my head."
Brad's previously released single Too Drunk To Drive reached #1 on Australia's KIX Country radio network chart.
BRAD COX DEBUT ALBUM TRACK LISTING

1 Drinking Pioneer
2 Red Light
3 Water On The Ground
4 Somewhere Like Cheyenne
5 Too Drunk To Drive
6 My Showcase
7 Reflections
8 Found My Way Home
9 Take Me Higher
10 Lake House
11 Towels
12 This Is Who I Am
Pre Order Album From iTunes Here
Brad has been invited to join Adam Eckersley and Brooke McClymont on a leg of their five-month Highway Sky Tour promoting their debut #1 ARIA Country Album.
ON THE ROAD WITH BRAD COX
**Highway Sky Tour**
Presented by CMC & KIX Country Network…
New shows on-Sale Friday 2nd March
from www.adamandbrookemusic.com and the venues
APRIL 2018
Fri 6 Man From Snowy River Festival, Corryong Vic
Sat 21 The Rock Camp Draft, Bullenbong Hut NSW
MAY 2018
Fri 4 Agfest, Carrick Tas
Thu 31 May Coomealla Club, Dareton NSW**
JUNE 2018
Fri 1 Jun Wheatsheaf Hotel, Adelaide SA**
Sun 3 Jun Boston Bay Wines, Port Lincoln SA**
Wed 6 Jun Ceduna Memorial Hall, Ceduna SA**
Sun 10 Jun Mumballup Tavern, Donnybrook WA**
Thu 14 Jun Settler's Tavern, Margaret River WA**
Fri 15 Jun Odd Fellow, Bunbury WA**
Tue 19 Jun Kalgoorlie Hotel, Kalgoorlie WA**
Fri 22 Jun Musicians Club, Broken Hill NSW**
Sat 23 Jun Cobar Bowling & Golf Club, Cobar NSW**
JULY 2018
12-15 Toyota Hats Off To Country, Tamworth NSW
27-29 Groundwater CMF
NOVEMBER 2018
10 Dunedoo Tunes on The Turf, Dunedoo Sports Club NSW