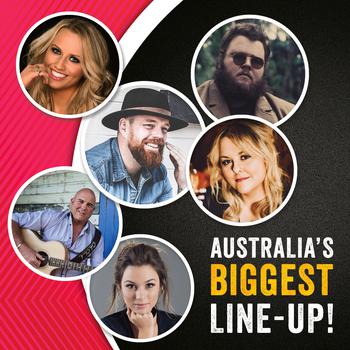 With tickets to hundreds of shows already on sale, and the line-up continuing to grow, it's no wonder the Toyota Country Music Festival, Tamworth has been dubbed Australia's biggest festival.

This third announcement of talented artists set to grace the stages of venues across the Festival includes: multi-award winners and all-round fabulous entertainers Lyn Bowtell, and Christie Lamb, plus the 2018 and 2019 Toyota Star Makers Brad Cox, and Blake O'Connor who will be joined by another popular Toyota Star Maker Luke Dickens. East-coast powerhouse Adam Eckersley Band, and hillbilly bands Whiskey Mountain Boys, and The Chicken Train Skifflers, all performing at The Albert Hotel.

Over at Moonshiners, Tamworth's very own Honky Tonk venue, and the hottest new country bar outside of Nashville, you can catch Caitlyn Shadbolt, Jayne Denham, Michael Waugh, James Blundell & Friends, Homegrown, Kaylens Rain, Liam Brew, and Warren H Williams plus many more.

The Tamworth Hotel will feature free shows from Alt-Country Troubador Andrew Swift, and Tamworth Entertainment Venues boasts Macca & Friends in Concert, The Pigs, Pete Denahy, Melissa Bajric, Kross Kut Records Showcase at the Capitol Theatre, and the Tamworth Country Music Charity Ball at Tamworth Town Hall.

Toyota Country Music Festival Manager, Barry Harley said: "These artists join the already huge line-up performing in Tamworth this coming January, and it's reassuring to see artists continuing to support what is not only the biggest festival in the country but the biggest economic driver for the Tamworth region."

Tickets to shows across the Toyota Country Music Festival, Tamworth have been selling fast and this stellar selection of musical acts is sure to keep that momentum going, so festival goers are encouraged to get in quick to secure their place at Australia's biggest festival in 2020.