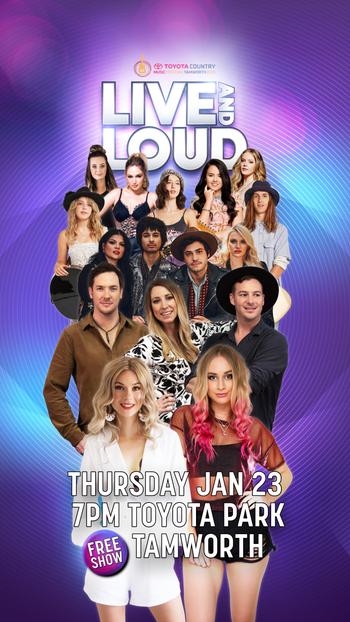 The Toyota Country Music Festival's biggest rock and pop-inspired country music concert Live and Loud returns to Tamworth's Toyota Park on Thursday 23rd January 2020, with a HUGE line-up of the hottest contemporary country artists
Featuring the startling vibrant Melanie Dyer, who has recently released a new single 'Memphis T-Shirt,' a pop embellished country bop. The concert is a showcase of some of the Festival's best young acts.
Joining Melanie on the bill is the charming Caitlyn Shadbolt, who rose to fame as a top-five contender on the X-Factor in 2014 and continued her rise with her self-titled EP in 2015, plus her debut album Songs On My Sleeve and Golden Guitar Award nomination in 2017.
Popular family trio Kaylens Rain with their country adult pop sound will also grace the stage during the concert as will country breakout act Darlinghurst.
Toyota Country Music Festival Manager Barry Harley says if you like it live and you like it loud this is a night not to be missed.
"Featuring some of the best, emerging and established modern country artists the Live and Loud concert is a highlight on the Festival calendar and being one hundred percent absolutely free, it's the perfect opportunity for those who want to experience true contemporary country music to do so on the biggest stage under the stars in the home of country music."
The concert will also feature The Buckleys, Glen Harrison, Leigha Moore, Juliet Oliver, Sophia Chesworth, and Jessica Emily Odgers, plus there's one more big announcement still to come!