2016 BUSKING CHAMPIONSHIP FINALISTS ANNOUNCED
After battling it out over the past eight days, the top 10 finalists in the 2016 Toyota Landcruiser Country Music Busking Championships have been announced today.
The finalists are Mitch King (Beechmont, QLD), Chloe Nott (Tamworth, NSW), Goldheist (Sydney, NSW), Rex & Val Baldwin (Gunnedah, NSW), String Loaded (Maitland, NSW), Josh & McKinley (South West Rocks, NSW), The Bowden Brothers (Tamworth, NSW), Matty Rogers (Crookwell, ACT), Andrew Cousins (Port Macquarie, NSW) and Cruisin' Dueces (Sydney, NSW).
The Festival has so far acted as a warm up for these talented musicians, who will now take the stage at the Toyota Busking Championships, held tomorrow at Toyota Park from 7pm.
The Championships are a great opportunity for the buskers, many who go on to record their own music. The likes of Keith Urban, Troy Cassar-Daley, Kasey Chambers and Lee Kernaghan have all busked on Tamworth's 'Boulevard of Dreams' and haven't looked back since.
"I have such fond memories of my time spent busking on Peel Street. It is such a great chance for talented musicians to get their music heard" explained Golden Guitar Finalist and Ambassador to Tamworth, Troy Cassar-Daley.
"The talent I have seen this year is outstanding and I wish all the finalists the best in the Championship" added Troy.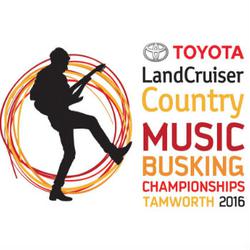 Proudly supported by