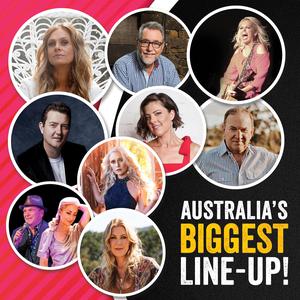 The Toyota Country Music Festival, Tamworth has bolstered its line-up adding some of the biggest and the best Australian country music acts to the bill with tickets set to go on sale next week.
Multi-award-winning artist Kasey Chambers leads the second announcement, with her one and only The Captain 20th Anniversary show at Wests Leagues Club on Thursday 23, January 2020. Celebrating her ground-breaking debut album, Chambers has sentimentally reformed her original band and will be playing songs from The Captain album, alongside a "best of her career" set.
The Master Storyteller himself, John Williamson is set to take his audience on a musical journey through the country, combining humour, romance, environmental issues, travelling songs and campfire stories at the original home of country music, the Tamworth Town Hall on Friday, 24 January 2020.
For over 25 years Beccy Cole, has been entertaining Australian music fans with her unique sound and 100-watt smile and January 2020 will be no exception, with her 'Wilder Tart' – Wild at Heart 20 years on show at Wests Leagues Club on Saturday 18 January and Friday 24 January 2020.
Wests Entertainment Group will also feature luminaries Adam Harvey, Bennett, Bowtell & Urquhart, Brothers3, Amber Lawrence, Felicity Urquhart & Brad Butcher, Jetty Road, Cornell & Carr, Libby Donovan, plus local Tamworth artists Ashleigh Dallas and 2018 Female Artist of the Year Aleyce Simmonds who will be launching her latest album at the Festival.
Toyota Country Music Festival, Manager, Barry Harley says "Tamworth continues to be the epicentre of country music in Australia and Wests Entertainment Group a fan favoured destination each January."
Joining the impressive line-up is three-time ARIA nominated recording artist and nine-time Golden Guitar finalist Jasmine Rae along with perennial favourites Glenn Shorrock & Wendy Matthews, Graeme Connors, Kristy Cox, and Gina Jeffreys. Rae will be previewing songs from her upcoming new album for the very first time, in her brand new LIVE & INTIMATE Show on Wednesday 22 January 2020.
As Mr. Harley explains, "Music-lovers visiting Tamworth in January have a unique opportunity to experience the biggest music festival in Australia featuring the biggest stars, the biggest line-up of artists, and the biggest country music awards show in the country all in one place."
This Festival fans will be treated to something extra special, when beloved country-rock duo McAlister Kemp make their long-awaited return to the live arena, with their Tamworth reunion show on Saturday 25 January. The duo consisting of Drew McAlister and Troy Kemp is one of the most popular Australian country music acts from the past decade.
"We are proud to have Australia's biggest country music stars return to Tamworth year on year to perform," said Mr. Harley. "We have been nurturing and promoting Australian country music talent for 48 years, and as we look toward celebrating 50, we hope to see more and more artists coming back to where it all began at the home of country music in Australia."
Jam-packed full of entertainment and adventure, the Toyota Country Music Festival will surprise and delight with more than just live music on offer.
Visitors looking for some hilarious entertainment don't have to go far with Wests Entertainment Group also featuring two times ARIA Award winning comedian Buddy Goode and award-winning ventriloquist Darren Carr with his show Darren Carr and Other Dummies.
It goes without saying that the best way to experience a music festival is by camping and the Toyota Country Music Festival's ten days of adventure, entertainment, and camaraderie wouldn't be complete without Wallaroo Camping, the only pre-pitched camping option for Festival goers in 2020.
"There's no better way to experience the Festival than by camping, and with Wallaroo, your tent is set up and waiting for your arrival providing the ultimate camping experience at the edge of the Festival action," Mr. Harley added.
Tickets for these shows plus pre-pitched camping will go on sale next week (September 2019).