For the first in a series of reflections, we're chatting to Tamworth Regional Council's Festival Manager, Barry Harley. Today, he's the glue that keeps the Festival together, but that hasn't always been the case!

He started out quite literally working with glue as a sign writer and visual merchandiser before he accidentally fell into set design for the Country Music Awards of Australia. He's seen the transition from the first awards show in 1973, through to what it looks like today – the Toyota Golden Guitar Awards, now coordinated by Tamworth Regional Council.

We've gone for a walk down memory lane, and it's a pretty interesting journey!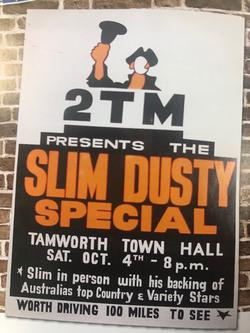 Well, this is where I came in. In the late 1960s – about the time that Tamworth was proclaimed the "Country Music Capital" in 1969 – 2TM (a local radio station) became involved in country music through their program "Hoedown" and they started to promote and tour country music acts into Tamworth. In those days, my role was a showcard, ticket writer and visual merchandiser at Myer in Tamworth. Max Ellis, the station's manager, came to our department to work with my boss, who was a silk screener. So I used to provide the artwork for my boss to silk screen the posters for those touring shows.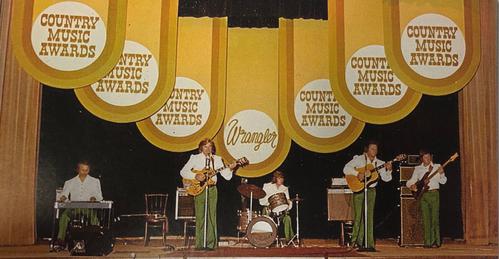 In 1973 they started the Country Music Awards of Australia in the Tamworth Town Hall and a colleague of mine designed and installed the sets in the first two years. But from 1975, he decided he didn't want to do them anymore, so he asked if I would do them. That year, I did my first Country Music Awards of Australia set, and it was this one! This particular set consisted of seven pre-painted drops made of chipboard which were hung from above the stage, but we didn't have a great deal of preparation time; we could only get into the Town Hall on the Sunday morning of the awards (which were held that afternoon). For this particular set, a colleague and I both thought that the other one was bringing the hanging material and when we arrived to set it up, neither of us had any wire, or cable, or anything! And these were the days when nothing was open on Sunday! So we fossicked around the place to find anything that might be used to tie things, and so those drops ended up being attached using things like coat hangers, string tied to rope, and twine. It was very delicately balanced, and inside about half an hour of when the show finished, number three came crashing to the floor!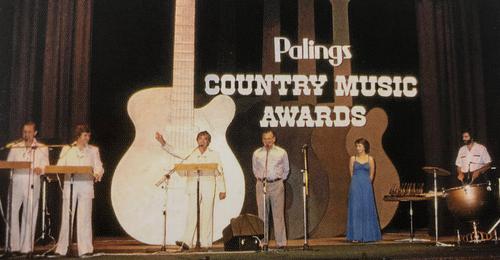 This is in the 1970s in the Tamworth Town Hall, when Palings was the sponsor. That's a three dimensional golden guitar built there with some shadow boards cut out and again, we didn't have a lot of time to bump it in and bump it out. At least this year, I'm pretty sure we had some string this time! As you can see it was a very classy event, you'll notice the pale blue suits and we had a timpani which would help with the awards announcements. In those days, it was broadcast on live radio, so we had to keep them entertained.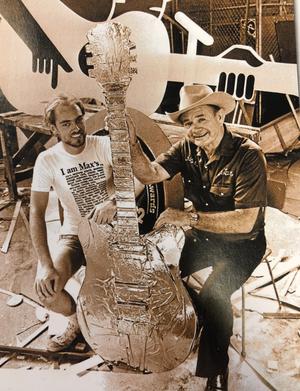 Fast forward to 1980, and I'd left Myer and worked with 2TM in marketing. This photo is me and Buddy Williams who was a pioneer of Australian country music. He was a true gentleman, and one of those musicians who travelled the country, singing in country halls. We're standing with a golden guitar which was a part of an awards set being held in the Big Top, and the image behind is actually the set that was used in October, 1979 for the first Star Maker event.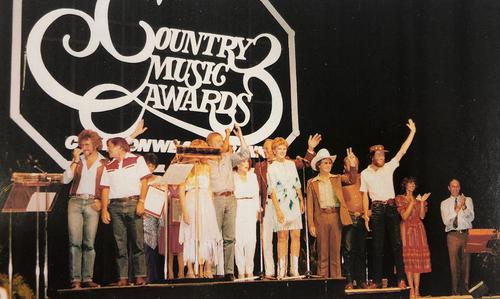 After three years in the Big Top tent, we ran the awards in a motor body factory in Taminda where we cleaned out three fifths of the factory to house the awards with over 3,000 people in the audience. This set was actually laying at the back of the stage on the Sunday morning and a truck ran over it! So that particular set was hand cut with a jigsaw about an hour before the show and it was hung up while the paint was still wet before the show started!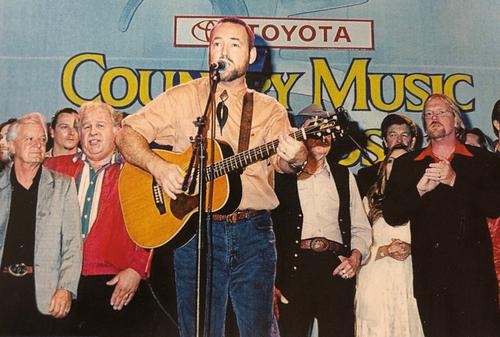 In the early 1990s, 2TM stopped running the awards. The CMAA (Country Music Association of Australia) was formed around this time and so they took it over, running the event in the rodeo arena at the Tamworth Showground. This photo was taken at one of these events. On stage, leading the finale is John Williamson, and I've got a feeling he did "True Blue". Behind him is Slim Dusty, with his face hidden by the guitar. There was a rodeo the night before, so we went in at midnight and changed it from a rodeo arena to an auditorium so again, the set had to be up in a couple of hours. There was no time for stuffing around!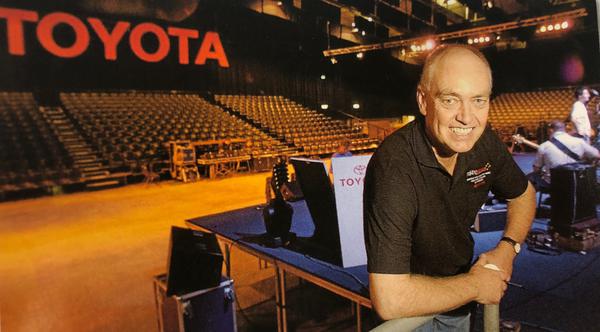 Once TRECC (the Tamworth Regional Entertainment and Conference Centre) was built around the year 2000, we moved out there into the Lyric mode. We would run up to fourteen festival shows there, including the Star Maker Grand Final which would sell out in a few days. It meant that we could build a really comfortable environment for watching the show, and we could seat something like 1,600 people. In this photo, we're getting ready for the Star Maker show, before the chairs went in.